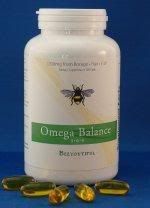 Omega fatty acids are extremely important to our health, but most of us aren't getting anywhere near enough of them in our everyday diets.I've known about Omega fatty acids for a long time and have taken them in the past, but usually found that the capsules smelled very fishy, and had the unfortunately side effect of producing fishy burps hours after taking them. Yukk!
So I was so thrilled to find
Omega Balance 3-6-9
because it's got all the good stuff we need, and none of the bad stuff that makes us not want to take it!
Omega Balance
contains a blend of borage, organic flax seeds, and fish oils. This unique combination provides an excellent source for these extremely important fatty acids!
You can read more about it
here
. Good stuff! (and with 180 capsules per bottle, it lasts a good, long time! I like that. Don't you?)